Internet security issues appear in the news all the time, and it seems that nobody is safe. Indeed, with headlines telling of major corporations being hacked it is no surprise that individual users and smaller businesses are worried. A further problem is that nowadays, many people browse the internet when on the move. The popularity of public WiFi hotspots in particular leads to added security issues, as these are largely unprotected networks that can be easily accessed by those with less than honest intentions.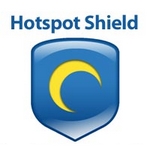 So, what to do about the problem? The best advice is to install a Virtual Private Network (VPN), and we have taken a closer look at one of the market leaders – Hotspot Shield – so that you can learn more about it. A VPN has many benefits: as it will encrypt all information it makes shopping and banking online safer, and because it protects your identity it means phishing is far less likely to be a problem. If this sounds interesting to you – and whether you are a heavy user or only occasionally browse the internet you need to have security as a serious consideration – then please read on for all the information you need.
How Does Hotspot Shield Work?
So, let's cut to the chase: how does Hotspot Shield work? A VPN is not a new idea, but these days they are far more sophisticated than those we have seen in the past. Put simply, every time you access, send or download information online you are setting off a chain of events. This involves servers, the main machines that carry information; two or more servers will talk to each other to transfer your information. Now, as they do this, they automatically identify you. Your Internet Service Provider will have allocated you what is called an IP number. This is essentially a unique address label, and tells the servers where you are, and who you are. That is, you must agree, information that you might not want everyone to know.
What Hotspot Shield does is use its own servers, rather than the dedicated one provided by your ISP. The IP address you use on this server will be a completely anonymous one; even if someone manages to hack into it, they cannot find out who or where you are. We won't go into too much detail as it can become complex, but in brief what Hotspot Shield does is give you a new, unseen identity by using a server that is secure and dedicated to the company, and that can be in one of many countries across the world. Is Hotspot Shield safe? Undoubtedly so, and millions of users are already browsing with this very efficient VPN.
The Benefits of Hotspot Shield
The primary objective of this Hotspot Shield review was always to discuss the benefits of the service. We have already covered anonymity, but there is a further benefit that may be of interest, especially if you travel a great deal. In many countries across the world the internet is heavily censored; China is the most famous example with the Great Firewall of China blocking a wide range of information at the government's behest. Geo-restricted content is blocked automatically when you try and access it via a server in that country. However, with Hotspot Shield, you can choose a server in a different country – in the USA, UK, Japan, Canada and Germany, for instance – so the firewall is overcome. It's simple, yet clever, and can unblock the likes of Facebook, Netflix, YouTube and many other services and websites that are routinely blocked in some countries.
So, not only do you get total anonymity when browsing online, you also get access to content that is restricted, and all this via a secure server that is dedicated to Hotspot Shield.
Hotspot Shield: Free vs. Elite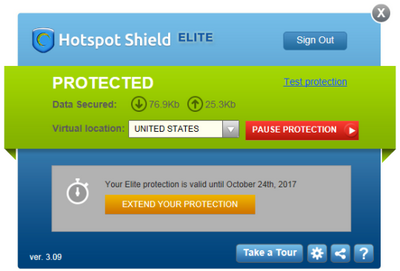 One area we concentrated on was the fact that Hotspot Shield is available in two versions – the free version, and the full Elite service. We wanted to know whether the price of the Elite package – $29.95 for a full year – was worth it, and having looked in detail at the extras, we believe it is a very cheap option for the added benefits.
Before we go on to explain why, bear in mind that the free version is very capable, and we suggest that even if you are thinking of buying the Elite service, you should download the free package – it is simple to install and very easy to get going – and try it first. However, the benefits of the Elite version are very attractive, and if like us you get tired of adverts popping up all the time – these pay for the free version – you will soon decide to invest in the full set up.
No adverts, full encryption, a masked IP address, full support and access to all of the Hotspot Shield servers are just some of the benefits, while you also get full customer support and can use the system on Android, iOS and PC devices with only one license. The price is, given the features included, very cheap indeed when you consider the security provided and the versatility of the service.
Conclusion
We have looked at many VPN services and many are very good indeed; this is one of them. Even the free download is very capable, simple to install and use and effective, while the paid Elite package is as comprehensive a VPN as you are ever going to find. If you are a business user then we can recommend Hotspot Shield without hesitation, and users who frequent public WiFi hotspots should seriously consider the problems of such networks without the security provided by the VPN service. It is no surprise that Hotspot Shield is one of the market leading packages as we found it extremely good value, with no effect on running speed and a mass of benefits in both the security and firewall-cracking areas, and at the price there is little on the market to match this top VPN product.

I give the HotSpot VPN service a 9/10 when compared to other VPN providers and similar software options.