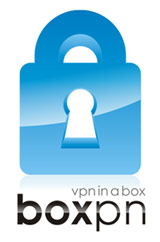 Many businesses and individual users are choosing to use a Virtual Private Network (VPN) for increased security. Threats of identity theft and Internet hacking are very real indeed, and with sensitive material being transferred by millions of emails every day it is no surprise that many major businesses have been affected. Choosing the right VPN needs careful consideration as the market is a fast-growing and competitive one, and there are many viable providers to think about. One of the market leaders is boxpn, a provider that has attained a top quality reputation.
Why use boxpn?
At first glance, there are a number of reasons why companies are choosing to use boxpn as their chosen VPN, not least the high level of security provided. boxpn uses a range of filters to stop malware, offers corporate-level security and firewalls, and is used by many major global organizations as a result. The company claims to go further than many providers who use simply proxy servers, and as a result provides a more effective and secure service than its rivals. Such claims make the boxpn service worthy of closer scrutiny and, upon delving further, it becomes more interesting and attractive.
Self-owned network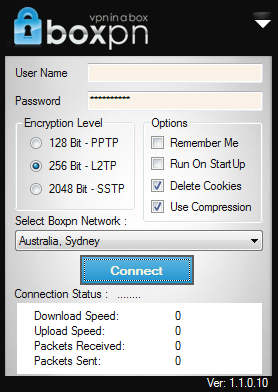 It is notable that boxpn makes a great deal of the fact it owns its own network; this does indeed have many advantages, not least the lack of fees from third part server-owners that tend to push up the price of the service. Thus, boxpn is a cost-effective service that comes in at a price somewhat less than many of its competitors. Furthermore, boxpn uses only the very latest hardware and, as developments in Internet technology are fast-changing is committed to keeping on top of its game in the world of internet security.
International presence
One of the major selling points of a VPN service is the spread of the network; boxpn has over 200 servers – all owned by itself – in a variety of countries across the world, making this a truly international service that is difficult to match. The presence of torrent-allowed servers in Canada, Luxembourg, Panama, the Netherlands and Sweden gives peace of mind to those who need such services, while there are boxpn servers in the following countries, among others:
The United Kingdom, USA, Italy, Russia, Singapore, Australia, Canada, France and Germany.
With such a spread of servers it is clear that boxpn is committed to providing a comprehensive and fully-compliant service for all users.
Many protocols catered for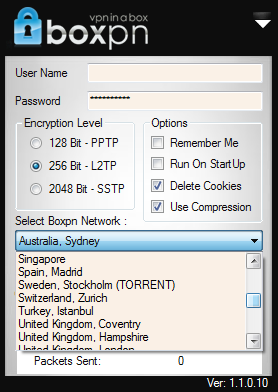 One area of VPN that can confuse people is that of protocols; these are the security protocols used by the network to assure privacy. boxpn uses the following protocols variously across its servers:
PPTP – a standard and much-used protocol that provides 128bit encryption and a very quick connection service. However, as it is so familiar it is worth knowing that PPTP can be blocked in some instances, although boxpn does offer help via upgrades and further.
L2TP – fast becoming the protocol of choice, L2TP is not as fast as PPTP but offers 256bit encryption and is considered in the industry to be among the strongest available. It does require an upgrade from boxpn but is well worth considering if you are looking for a higher level of security.
SSTP – the most powerful VPN connection, SSTP is super-secure and offers astonishing 2048bit encryption, and is able to bypass many network restrictions. This is the protocol of choice for major corporate users as it provides a very high level of security. As a result it is slower than the above two options.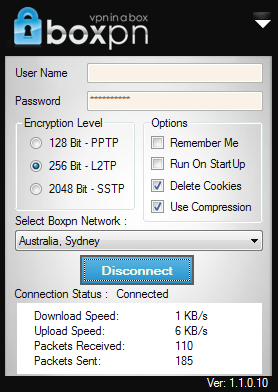 The three main VPN protocols listed above are chosen for different reasons: boxpn offers PPTP for low-end users, and SSTP for those who require a higher level of security but do not need the all-encompassing power of SSTP. The latter is much-used in countries where the internet is restricted and the first two protocols may be blocked, these including China, Iran and Syria.
Full support and ease of use
One area in which boxpn has garnered some favorable reviews is in the ease of use in both installing and using the system. In fact, the company claims that users can be up and running in ten minutes. There is also the option of adding a second account – at a discount price – perhaps for a smartphone or tablet. boxpn offers a 100% money-back guarantee to those who may not be satisfied with the product, but the very positive reviews suggest that there will not be many who choose to take it up.
With many years in the business and a well thought-out network of servers, boxpn is rightfully considered a leader in the VPN market and offers a wide variety of options that allow it to cater for individuals and major corporate entities alike, and at the excellent prices is a very competitive choice of VPN provider.
Here is what boxpn offers:
– 100% private access to the Internet
– Unblock websites
– Secure your Internet connection with 2048bit SSTP VPN
– Unlimited bandwidth
– 22Gbit network
– US, UK, CA and EU servers
– PPTP and L2TP for smartphones and tablets
– Anti-malware and antivirus

I give the boxpn VPN service a 8.5/10 when compared to other VPN providers and similar software options.