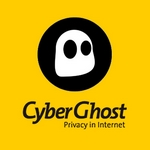 If you spend a lot of time online, whether for business use or for pleasure, you will surely be aware of the many security risks that are present. We all store personal and often sensitive information online, and you most likely shop or bank online, too, and as we have seen lately even the biggest corporations are susceptible to clever and unscrupulous hackers. So, apart from the obvious advice of having different passwords for every portal you use and keeping them secret, what can you do to enhance your online security? The answer is to invest in a Virtual Private Network (VPN), and the benefits don't stop with security.
What is a VPN?
A VPN is a service that effectively hides your identity. Put simply, when you send or receive information online you are using servers; these servers talk to each other, and establish who you are, and where you are. They do this by reading your IP address, which is an individual number allocated to every computer by your Internet Service Provider. Now, consider that these servers are used constantly by many thousands of users, and you begin to see how vulnerable they are. However, there is more: have you ever come across that annoying message on YouTube or elsewhere that tells you the content is not available in your location? Or perhaps you've been traveling overseas and found you can't reach Netflix? A VPN overcomes this in a clever fashion: it does so by allowing you to choose a server in a country where the content is not blocked, rather than the automatically selected one behind the firewall.
I took a look at one of the most impressive VPN services on the market – CyberGhost – to give you a better idea of what it's all about, and why you need a VPN.
About CyberGhost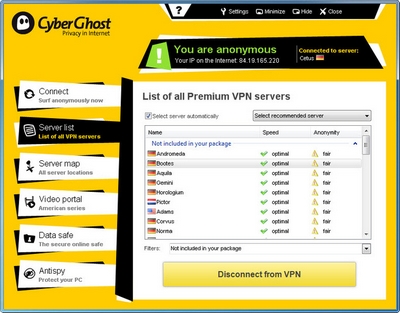 There are many VPN services on offer and CyberGhost stands out because it has several interesting features. First, I was attracted by the fact it is very easy to install, and in fact can be up and running in just a couple of clicks. Secondly, I liked the look of the figures provided – four million users so far is an impressive number indeed. When I took a closer look at the service it became even more interesting.
One of the main attractions of a VPN service is the ability to choose a variety of servers in different countries. It is this factor that allows users to overcome geographical restrictions, such as the famous 'Great Firewall of China', a government sponsored system that blocks content considered to be subversive. CyberGhost boasts more than 500 servers across the world, including countries such as the USA, UK, Australia and Hong Kong, plus a variety of European countries and Japan. This variety is one of the main reasons I chose CyberGhost VPN to review, and in this area it is very hard to beat.
No Effect on Speed
Another factor that I found attractive with Cyber Ghost is that of speed. Some VPN services use a lot of bandwidth and slow your computer down. This one claims not to and, when tested, I found it to be as good as its word. When it comes to anonymity the service wins hands down. The free proxy on offer provides a selection of services, but the full package offers just about everything you could wish for. You remain anonymous on all internet traffic, music and streaming services, and for many that will be the clincher when it comes to making a decision.
A further benefit is that Cyber Ghost VPN works on wireless connections, 3G and EDGE, and offers full anonymity on all of these. Being able to search anonymously is something that many people find useful, especially when it comes to private and personal information.
Affordable & Easy to Use
You may be thinking that all of this comes at a hefty price; in fact, CyberGhost comes with three different pricing options that are surprisingly affordable. You can choose the CyberGhost free service – it is completely free, no strings attached – should you wish, and like the other options it comes with unlimited bandwidth and traffic plus full encryption, but I recommend you pick one of the two paid options. At the time of writing these were: $5 per month (paid annually) which gives you a service five times the speed of the free service, comes with apps for Android and iOS, features no adverts and gives access to all servers and countries; or, for $9 per month, again billed annually, you get all the above plus the ability to use the service on five devices at one time. I believe these to be excellent prices in the current market place.
Conclusion
I could write reams about the benefits of this very neatly designed and well developed VPN service, as I believe CyberGhost to be one of the best options available right now. It is amazingly easy to install and has no effect on any of the systems you are already using; it is easy to use and offers excellent protection and anonymity, and it comes at a price that others will have to match or beat if they are going to convince me they can do a job as well as this.
It remains only to be said that it cannot be stressed how important a consideration a VPN is when it comes to security, and how useful CyberGhost in particular can be for those who travel overseas. The internet is heavily censored in many countries across the world, and sometimes copyright issues can prevent content from being available where you may be staying. By using CyberGhost you can bypass any geographical or copyright restrictions with the utmost ease – even if your ability with computers extends only to browsing content you can still use CyberGhost as it requires no expert knowledge to install and use. In a nutshell, it's a very effective, affordable VPN service that I take no hesitation in recommending as one for your short list.

I give the CyberGhost VPN service a 9/10 when compared to other VPN providers and similar software options.