Using a virtual private network (VPN) is becoming more popular as individuals and businesses try to come to grips with internet security issues.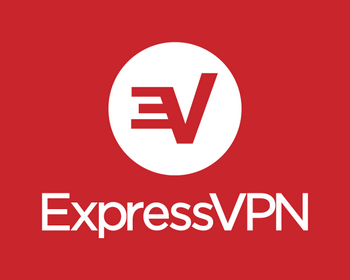 New VPN software is released all the time, but it is still long-established, tried and tested brands that dominate the market. ExpressVPN is one of those. It provides a high level of security with excellent pricing options.
We took a closer look at it, and this review looks at its features. Once you go through it, you can make up your mind about whether it's the right VPN software to protect your devices.
Remember, no VPN is 100% secure but there are some, like this one, that come pretty close.
What Makes ExpressVPN Unique?
ExpressVPN is often called the best VPN with good reason. Since it was established in 2009, it has become one of the best providers of online security services. It is fast, has more than 3,000 servers, supports a variety of platforms and can be used in countries like China (many VPNs, even good ones, cannot get past the China firewall).
ExpressVPN has a high customer satisfaction rating. No VPN is indeed 100% perfect, but ExpressVPN seems to have lots of satisfied customers. They are happy with the fact that they can remain anonymous at all times, the VPN has a simple user interface that's easy to navigate, they get good customer support, and all this comes at an affordable cost.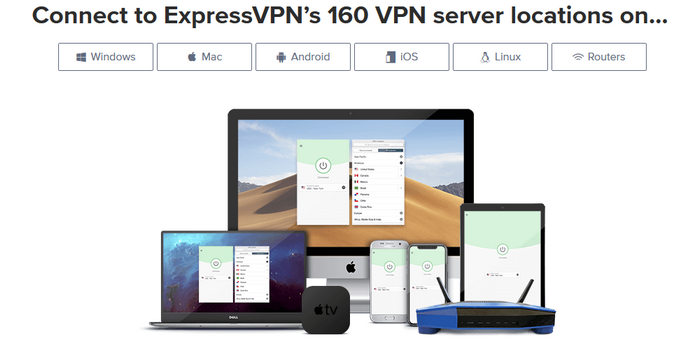 ExpressVPNs global server coverage means that wherever you are in the world, you can connect without any problems. Furthermore, the thousands of servers allow for a distributed load, meaning none gets overloaded. You can get optimal speeds anytime you connect through this software.
An In-Depth Look at ExpressVPN Features
Secure Encryption & Hidden ID
The major benefit of using a VPN is security. Every VPN works by encrypting your identity and location so that it is impossible for those with malicious intent to access the information on your system.
Express VPN uses servers in no fewer than 160 locations in 94 countries worldwide, with a major presence in Asia, Europe and the USA. Each of these servers switches IP addresses so that users are secure wherever they are, whatever they are doing.
When you connect through an ExpressVPN server, it shows the IP address of the server you connect through, not your real IP address. By using highly secure 256-bit encryption ExpressVPN allows users to access the internet via wireless networks without the fear of compromised security.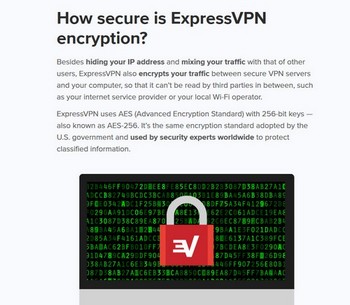 30-Day Money Back Guarantee
If you aren't familiar with security software, 256-bit encryption may not mean much to you. It is rather complicated, but here is all you need to know: it is very difficult (in fact almost impossible) to get around this kind of encryption. It's used by governments around the world, including the US, as well as security agencies like the FBI and CIA.
To further secure the data between your device and ExpressVPN servers, the software uses several protocols: UDP OpenVPN, TCP OpenVPN, L2TP IPSec and PPTP.
You can customize your protocol, or you can use the automatic protocol set for the app, which is the most secure.
Speeds
Speed is important when you are choosing a VPN because you don't want one that slows you down to a crawl.
ExpressVPN does very well when it comes to speed. It is among the fastest, if not the fastest, that we have tested so far.
Server distance can affect VPN speed; if you connect to a server near you, speeds are likely to be higher than if you use one that's thousands of miles away. ExpressVPN seems to be consistent across the board.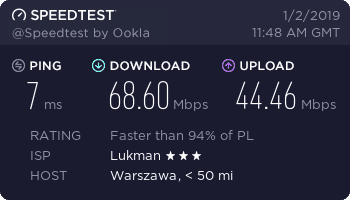 The best speeds we got were downloads of 68.60 Mbps, and uploads of 44.46 Mbps. The slowest were in Australia (download of 30.1 Mbps/upload of 19.1 Mbps), but that is faster than most ISPs anyway, so it should be okay for everyday use.
Number of Servers
You probably know by now that the higher the number of servers a VPN has, the better. More servers allow for higher speeds because data requests are distributed within a wider network.
Express VPN states on their website that they have 3000+ servers in 160 locations across 94 countries. They do not tell us the exact numbers, though this hardly matters because they are able to provide high, reliable speeds.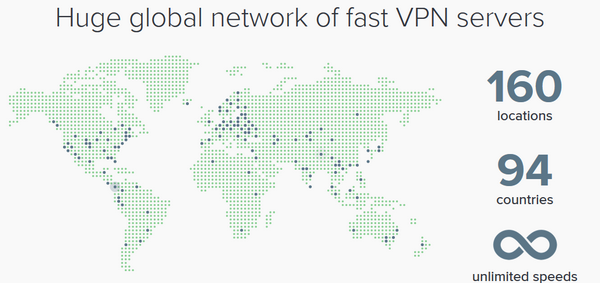 Most of their servers are in Europe (60 locations), and North America (32 locations). Oceania (Australia and New Zealand) has servers in 6 locations, while Asia has servers in 39 locations. There are 11 server locations in Central and South America, 4 in Africa and one in the Caribbean.
Some reviews point out that ExpressVPN has a large number of virtual servers. A virtual server is one that appears to be in a certain location (or country) when it's actually in another. VPN companies use virtual servers in order to enforce standards.
You may find, for example, that servers in a certain country (A) aren't as good or well-managed as in another (B). In that case, the servers will appear to be in country A when in reality, they are in country B. The quality of your connection and safety are not compromised by virtual servers.
Ease of Use
The system is easy to install and is a one-click operation. As it runs in the background it is very much an on-demand VPN. Such ease of use is a major plus especially for first-time users of VPNs. Installation is easy too – just go to the website and click on any of the "Get ExpressVPN" buttons.
After you download you will be asked to enter an activation code for each device. The code is provided during the download process. When you enter the code on each device you intend to use, the software can start-up immediately you boot, and you don't need to log in every time.
Once you log in you will see the app – a big, green and white icon that shows your connection status and the server you're using. To change servers just click on the three dots next to the server location.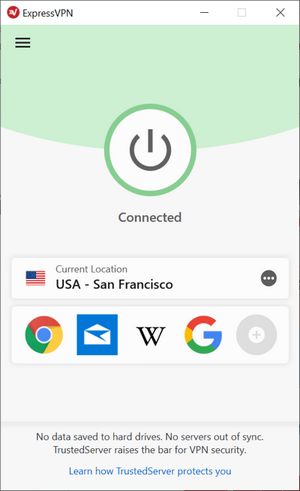 On the top left side of the app there are three lines that you can click on to customize your settings.
The app allows you to add up to shortcuts to the connect icon.
On the options tab, we recommend that you allow ExpressVPN to launch on startup and connect to the last server you connected through.
No Logging
As with all good VPNs, Express VPN promises not to log your information. The company does not monitor user activity as it believes in total privacy across the board. They are very clear about this in their policy, and on their website it states that they do not collect IP addresses, browser history, DNS queries or traffic destination.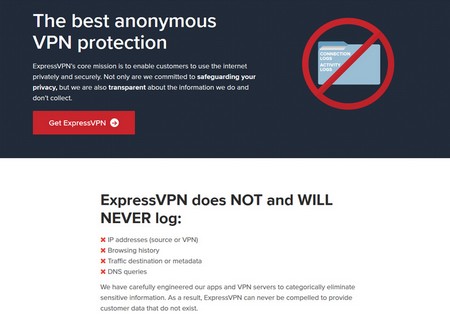 They are also clear about the information they collect. This includes versions of the app that are successfully activated, dates when a user is connected through the service, the server they are connected through and how much data they use in a day.
This information cannot be matched to a particular user, so your internet activity can never be traced back to you.
So why do they need it? It helps them understand and solve any technical issues that users may be facing. They also use it to improve the service.
Supports Different OS
ExpressVPN can be used on Android, Windows, Mac and Linux operating systems, and there are apps available for tablets and smartphones, making this a true on-the-go VPN, unlike some VPN which are limited in the number of OS they support. You can connect 5 devices simultaneously.
ExpressVPN for Netflix
If you are looking for a VPN that can help you unlock Netflix and similar services, you are in luck; ExpressVPN works like a dream. You can connect to Netflix from anywhere in the world, and it remains the fastest VPN for this.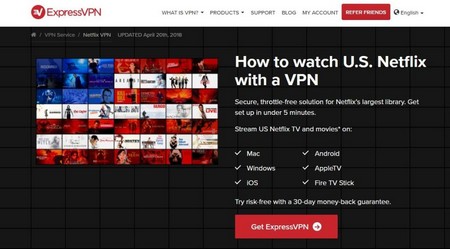 The process is simple.  Once you have the app installed on the device you want to use, choose a server in the country whose content you want to enjoy and then log into your Netflix account and choose what you want to watch. If, for example, you want to watch something on Netflix US, you will connect faster if you choose a server in the US.
You can also use ExpressVPN for YouTube, BBC iPlayer, ESPN, HBO, Amazon Prime and many more.
ExpressVPN for Torrenting
Torrenting is frowned upon. It used to be big, but in the last few years it has been curtailed because it infringes on copyright.
While many VPNs don't allow P2P traffic, ExpressVPN provides the anonymity that you need to torrent in anonymity. There are no specific servers you need to connect through to share P2P traffic; just connect to the nearest and fastest and launch your torrent.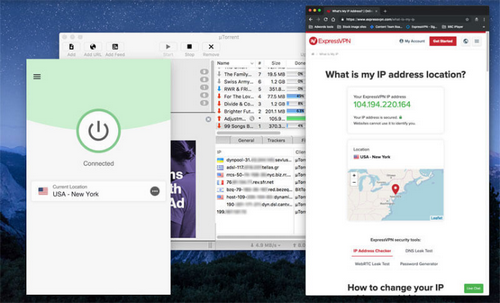 Some VPNs that allow torrent traffic have bandwidth limits, and if a user reaches their cap they have to pay to get more. Not ExpressVPN. You can download as many files as you like as there are no bandwidth limits.
When you share P2P traffic through ExpressVPN you are guaranteed fast connections, no logs and strong encryption to protect your location.
ExpressVPN for Geo-Blocks
One of the more useful aspects of using a VPN is that it can be used to overcome location restrictions: some countries, like China, for instance, impose bans on certain sites. Using a VPN one can circumnavigate the system and get back to the sites that are restricted.
Because the user's actual location is secure Express VPN can get past the blocks, and allows access to the many restricted sites such as Facebook, Twitter and YouTube that some countries do not allow.

A further bonus of the above is that anyone looking to find where the user has been or what they have been accessing on the internet cannot, as all information is encrypted by ExpressVPN servers.
Wherever the user is they can access content from another location, whether it is restricted in their country or not. The encryption applies to emails and Skype conversations, two areas that are notably prone to interception, and also protects against government searches in countries that analyze computer users' habits and accounts.
Customer Support
Customer support is an important aspect that many VPNs are yet to straighten out. Even some of the ones that offer the best service struggle when it comes to responding to customer queries. All they have are guides on their websites and if you're lucky, a live chat that's operated by a robot.
This isn't ideal, whether you are a VPN newbie or an experienced user. VPNs can be complicated to set up and use, and if a user needs help they should be able to get it immediately.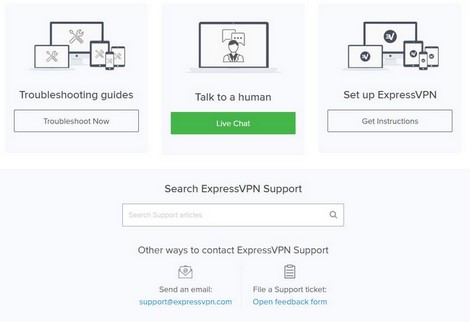 ExpressVPN has a support section on their website where you can access video tutorials, articles and a troubleshooting guide. These, however, are rather limited.
If you want immediate support, we suggest you use the Live Chat on their website. There are real humans at the other end, and they will provide the answers that you need. If they come up against a problem they can't solve they usually forward it to one of their technicians, and they can get back to you on email within a few hours.
Sensible Pricing & Refund Policy
One of the most attractive aspects of the ExpressVPN deal, we found, is that of the pricing plans:
One-month plan at $12.95/month
Six-month plan at $9.99/month
15-month plan at $6.67/month (including 3 free months)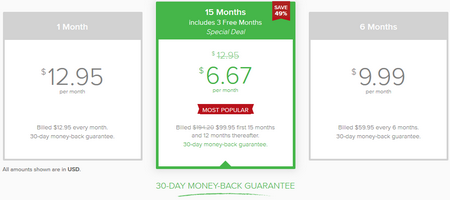 30-Day Money Back Guarantee
How does it compare to others? It isn't the cheapest, because there are some VPNs that go for as low as $3/month, but when you consider the quality of protection you get with ExpressVPN you will find that the pricing is fair.
Conclusion
Is ExpressVPN ideal for you? For business users it provides essential protection for sensitive information in emails, shared files and other communications. For individuals, the anti-censorship and identity theft protection elements are strong.
ExpressVPN offers excellent protection in all areas. It is well established in the market and has remained reliable throughout.
Whether used on a PC, tablet or smartphone, Express VPN runs smoothly in the background. It's easy to install and use, and provides exactly what the user needs – security and safety when browsing the web, even on unsecured wireless networks. It is a worthy contender for anyone shopping for a VPN package.
Remember, they offer a 30-day money-back guarantee, so it's risk-free for you.