The market for virtual private network (VPN) products is rapidly expanding as business and personal users warm to the idea of using a secure network.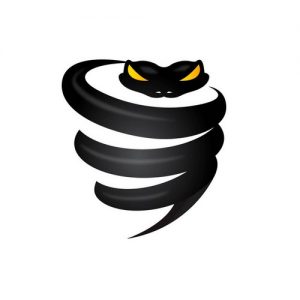 Concerns over internet security and identity theft are very real indeed, and with so much sensitive information passing via email and other digital methods, a VPN is a sensible consideration.
Choosing the right VPN is not the work of a moment, so we have decided to help by reviewing one of the more popular packages – VyprVPN.
What Makes VyprVPN Unique?
Every VPN provider makes claims that they hope will be a major selling point over rival versions, and with VyprVPN it is a very impressive claim indeed: the company claims to adopt a unique approach in using its own, in-house servers, rather than contracting a third party to provide server space.
The benefits of this are clear and attractive: without third-party interference security is guaranteed, and by running its own servers, VyprVPN guarantees fast and reliable connections at all times.
When considered alongside rival packages this is a very impressive bonus and one that may sway us towards VyprVPN.
Furthermore, VyprVPN is not only optimized for modern broadband, but the company boasts a team of engineers who are dedicated to the upkeep of the network and whose experience is second to none.
Multiple servers mean that users are covered in the event of an outage, while ease of use has made it a favorite among VPN newbies and experienced users. VyprVPN is simple to install and use, and the 256bit encryption is a very promising sign.
An In-depth Look at VyprVPN Features
Unlimited VPN Usage
The VyprVPN package includes a guarantee of unlimited speed and VPN bandwidth usage, which will appeal to the business users especially.
With no data caps or speed limits, the service is efficient and fast, and makes for a sensible choice for constant use. There are no limits on server switches and, unlike some rival systems, there is no additional charge for switching between servers.
VyprVPN also has the added versatility of not only being available for Mac and Windows operating systems, but also on Android and iOS smartphones, something not all VPN packages are capable of.

30-Day Money Back Guarantee
Choice of protocols is another selling point, with VyprVPN able to utilize L2TP, PPTP and OpenVPN, thus covering all the bases in that area, plus firewall options are available to suit all needs.
VyprVPN uses the proprietary Chameleon protocol, which compares well with some of the other well-known VPN packages and is a useful addition.
The benefits of having written the code in-house, and in engineering its own servers, are a major plus, as well as full 24 hours, 365 days a year support. Users have a guarantee of a response to all queries in 15 minutes, plus live chat options.
Highly trained engineers and support staff provide excellent back-up, and customer testimonials are an indication of positive experiences where customer service is concerned.
VyprVPN is well placed to provide decent coverage across the world, and the system includes such security features as automatic VPN use when the computer detects an unsecured wireless network, as well as a single-click connection when manually activating the VPN.
VyprVPN also assures its customers that it is constantly improving the software and updating its systems regularly. This is important, as online security threats evolve all the time, and VPNs need to stay ahead for maximum security.
Automatic Mobile Connection
As many smartphone users regularly access unsecured wireless networks, a VPN is becoming a must-have item, and VyprVPN is well optimized for use on handsets.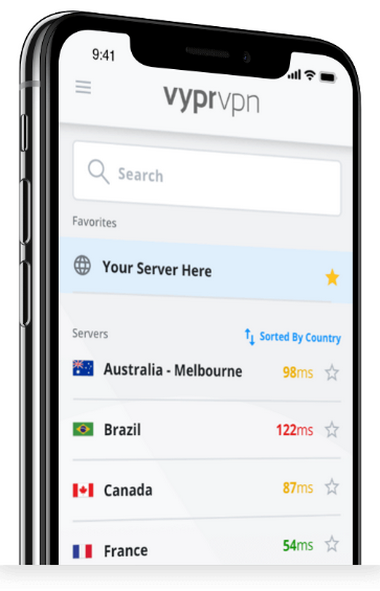 The smartphone version of VyprVPN is designed to protect handset users against similar threats as those experienced by computer networks. It utilizes an automatic connection and provides the very best security available to mobile handset users.
Encryption is of the highest standard and the system is optimized for iPhone, iPad and Android devices. Indeed, VyprVPN claims to be the only provider to cover Windows, Mac and the two main mobile operating systems.
Location
Location is a primary concern for VPNs. If a VPN is in the wrong part of the world, it can be compelled, through a court order, to surrender client information. If you keep up with online privacy you may have heard of the 5 Eyes, 9 Eyes and 14 Eyes alliances. These are groups of countries that have signed agreements to collect and share data.
The 5 Eyes Alliance is made up of the US, UK, Canada, Australia and New Zealand.
9 Eyes is made of all the countries in 5 Eyes, as well as Norway, Denmark, France and Denmark.
14 Eyes consists of all the countries in 9 Eyes plus Sweden, Belgium, Spain, Germany and Italy.
These countries collect data from businesses and citizens within their borders, and they can legally compel entities to share information. Any VPN that is located in any of them isn't safe as they can be issued with a court order asking for information about client activities.
VyprVPN is owned by Golden Frog in Switzerland. It isn't a member of any of the alliances, so your data can never be compelled.
User Data Logging, IP & DNS Leaks
In late 2018 VyprVPN announced that it passed an independent data logs audit. In a nutshell, they do not keep any user information without explicit consent. What does this mean?
It means that they will collect some information from users when they sign up, specifically their email address and payment details. This information is necessary for the internal workings of the company but is never shared with any third parties.
However, VyprVPN will not collect your IP address, the IP address that's assigned by the VPN every time you go online, they do not log times users are connected and it doesn't log what sites users visit or what information they submit or request from these sites.
Their user policy also explicitly states that they do not discriminate against users based on devices.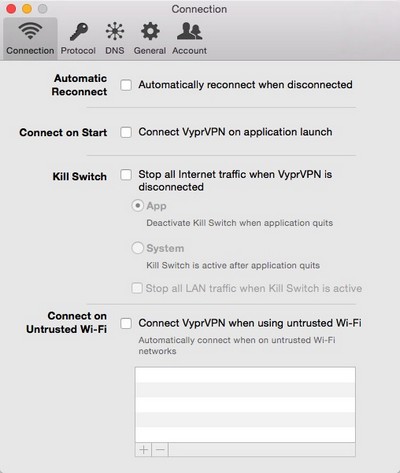 In settings, you can (and we recommend that you do), activate DNS Leak Prevention.
When we tested for IP and DNS leaks, the service passed with flying colors. We also checked whether there were potential threats during installation and found none.
The software has a kill switch that kicks in in case of a dropped connection, but you have to configure it after you install the software.
Server Distribution
The more servers a VPN has, the better. It's even better if they have a wide distribution network. VyprVPN has more than 700 servers in North America, Europe, South America, Africa and Australia.
As mentioned at the beginning, one thing that's unique about VyprVPN is that it's the only VPN that runs all its own servers. We looked into all the other top VPNs, and we found that most lease data centers to manage their servers.
Managing their own servers provides added security for users, and it allows the company to balance server loads, ensuring optimal speeds for all servers.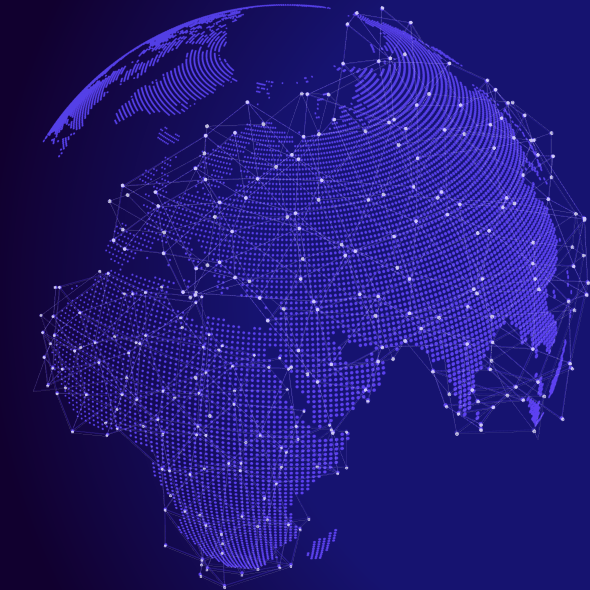 The VPN has servers in 10 locations across North America, 30 countries in Europe, 5 locations Australia, New Zealand and the Marshall Islands, 19 countries in Asia, 7 countries in Central and South America and 2 countries in Africa.
This means that wherever you are in the world you can establish a solid VyprVPN connection.
Speeds
Granted, VyprVPN is not the fastest VPN there is out there, but it's more than sufficient for most users.
When you are comparing VPN speeds you must always look at consistency. Some VPNs are fast, but the speeds fluctuate a great deal which can be frustrating.
These are the best speeds we were able to get:

When we tested VyprVPN we found that it offered steady download speeds of around 50 Mbps and 40 Mbps for downloads. For the average user this is much higher than they get from their ISP anyway.
Whether you are torrenting large files or streaming content you will find that VyprVPN does quite well.
This is attributed to the fact that Golden Frog runs all its own servers and so can distribute loads so that no server is slowed down by too many connections at once.
Netflix & Torrenting
Many users buy a VPN for its ability to access Netflix and torrent files. VyprVPN is excellent for both. We were able to connect Netflix and a few other services we tried without any trouble.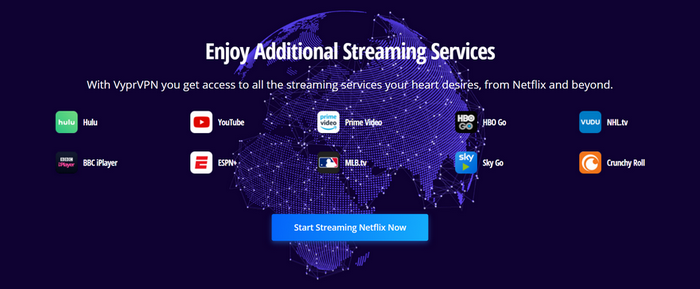 Torrenting with VyprVPN is easy because it offers such stable speeds. Users are safe as it doesn't log data. No one can tell what files you are torrenting or where you are torrenting from.
Some reviews state that VyprVPN doesn't allow torrenting. This is because on the "Prohibited Activities" section of the website, it states that copyright, patent and trademark infringement are not allowed.
This is normal. VPNs do not want to be seen to be breaking the law, so this is standard legal language. However, if you try them for torrenting they work perfectly well. Be careful though because with some, if you try to torrent they will suspend your account.
Number of Simultaneous Connections
VyprVPN works across all OS (Android, Windows, Mac, iOS and Linux). You can also use it on devices like routers and TV boxes.
The software allows users to connect up to 5 devices at once.
Ease of Use
Ease of use is very important because however good a VPN is, if it isn't easy to navigate it frustrates users. We found VyprVPN very user-friendly. To install just click "VPN Apps" on the top banner of the website and you will be prompted through the process right to the end.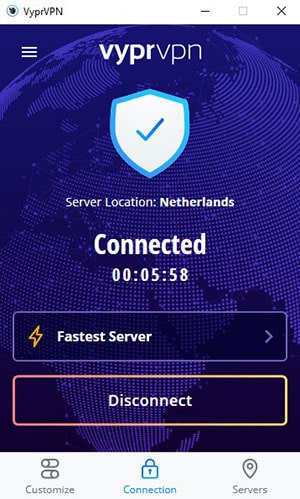 The app itself, once installed, looks great. It has a nice, modern feel to it and all the important buttons are easy to find. Users can easily navigate VyprVPN because they aren't presented with a jumble of options. You can connect and disconnect, and also choose a server with one click.
Right under the app there are three icons: Customize (to change settings), Connection and Servers. To access your account, click on the three lines at the top right-hand corner of the app.
Pricing
There are 3 plans available:
2-year plan costs $2.50/month, billed every 2 years.
1-year plan costs $3.75/month, billed every year.
Monthly plan costs $12.95/month billed monthly.

30-Day Money Back Guarantee
Each of these plans has a 30-day money-back guarantee. You can pay using a variety of methods including PayPal and ALIPAY.
This is probably the only VPN that allows users to cancel their subscription through their accounts: just go to the Control Panel section of the app, click Accounts and you will see "Cancel Service". You'll be asked why you want to cancel your subscription, and after you provide an answer you'll click on a button and your account will be closed.
Customer Support
There is a variety of ways to get in touch with VyprVPN customer support. On their website there is a bot that can answer obvious questions through Live Chat, but if that doesn't work you can always contact real humans by submitting a support ticket.

You can also refer to the troubleshooting guides and articles that are available on the website.
How does VyprVPN compare with others when it comes to customer support?
It's quite good. In the past, it took hours for customer support to answer queries, but now you are able to talk to a proper support person within minutes of submitting a ticket.
Conclusion
In a crowded marketplace it is always wise to make sure that the product provided is suitably effective to take on the opposition, and our conclusion is that VyprVPN has many impressive features that make it one of the stand-out VPN packages of the moment.
We are particularly keen to push the 'in-house' aspect with regard to servers, engineering and coding, as this does eliminate the possibility of interference by third party operations.
The unlimited speed and bandwidth, and the widespread servers across the world, as well as the ease of use are other notable points.
All things considered, VyprVPN is a viable choice for business or personal users looking for an up to date, well-maintained and effective VPN, at a sensible price.
Do we recommend VyprVPN? Without a doubt. It may not be the fastest or the cheapest VPN in the market but it has a lot going for it. It offers stable speeds that are more than sufficient for the average user, and it has lots of valuable features that you won't find in similar products in the market.