We are spoilt for choice when it comes to TV shows and movies in the 21st century: not only are there hundreds of channels, but we can easily access them using handheld devices such as smartphones and tablets, or on computers and laptops.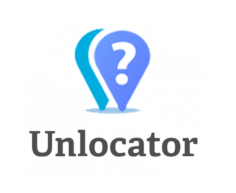 An ordinary TV can become a smart TV with the use of a small, cheap device, allowing you to display what you are streaming to your device on its screen. The latest tablets have the battery capacity to allow you to watch several movies on the go.
This is great for travelers, people who spend a long time abroad for work or who are on vacation, but what happens when you find that, for example, Netflix is blocked where you are staying?
It's an all too common problem, as many countries have systems in place to prevent people from watching certain content, and there can also be copyright issues that compound the problem. This is what is called geo-blocking.
What's the solution? We believe it may be a smart DNS called Unlocator. Keep reading to find out more.
What is Geoblocking?
The practice of restricting content from certain countries in other places is not uncommon: anyone who has ever done business in China, wonderful country that it is, will be aware of the legendary 'Great Firewall of China', a strict system that blocks a great deal of foreign – in particular Western – content, including TV and movies.
China is not the only country to restrict content: Saudi Arabia also blocks a wide range of content, as does Cuba, and there are many more examples.
Even if content is not blocked by governmental control, it may be that the copyright pertaining to the content itself does not apply in certain countries, hence you will not be able to view it.
Geoblocks can apply anywhere you are in the world, and they restrict the number of channels that you can access on your TV.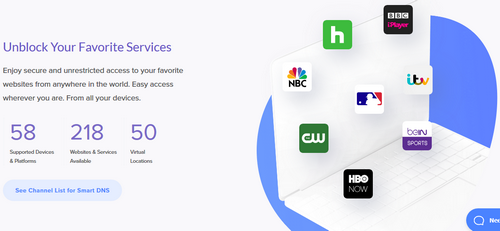 Unlocator is the answer to the problem, and it is a clever system that works in a very simple way.

30-Day Money Back Guarantee
How Unlocator Works Its Magic
To call Unlocator magic is being a little creative: to those not well-versed in the ways of computers it may seem like magic, but it simply makes use of something essential to all data transmitted over the internet.
Whenever you request information via your computer – be it a website, blog, video or anything at all – you are asking a DNS server to talk to another DNS server to find and bring you that information.
The DNS server is a vital part of the process, and cannot be avoided. There are millions of them across the world, and you will access one that is allocated to your IP by your Internet Service Provider.
That server then talks to another – one that has access to the information you want – and they work it out between themselves to get results to your search query. They send those results to your IP address.
However, there is a problem: if one server discovers the other is in a place where the required information is prohibited (geoblocked), the transaction will not be completed.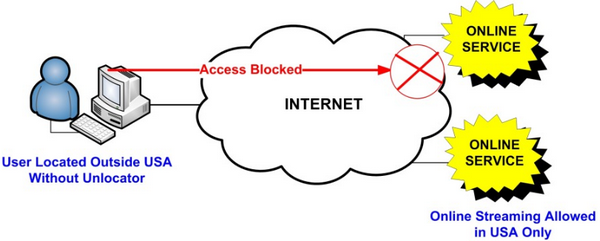 Using Unlocator, you'll be able to overcome this problem. Unlocator changes the destination server identity from one in the prohibited area to one in a country where the content is allowed to be transmitted.
It makes your computer, or any other device you may be using, appear like you are not where you actually are. It allocates you a new IP address that makes it look like you are in a region that isn't affected by geoblocking.
Say you are in China or Cuba, for example, and you would like to watch a show on Amazon Prime. If you try to connect directly, you will get an error message. If you install and use Unlocator, your computer, phone, tablet or smart TV appears as if you are in a region that can access Amazon Prime, and it will connect to the Amazon server and allow you to stream.

Simple, effective, and very useful indeed.
Unlocator Review
To help you understand whether or not Unlocator is worth your while, let us look at its features and how they work.
Unlocator Speeds
When you are streaming content speed is important; the last thing you want is interruptions or buffering as you watch your favorite show.
Unlocator claims to have one advantage that differentiates it from other smart DNS services: it doesn't slow down your speed.
This is because it doesn't use any special protocols or encryption to protect your identity. All it does is assign your device a different IP address and mask your location. Is it true?
We tested the service for ourselves and noticed that this might be a bit of an exaggeration. Unlocator is not slow; in fact, the speeds it provides are higher than those offered by many ISPs.
However, it will slow down your connection somewhat. We started our tests with a baseline download speed of about 7.18 Mbps, and when we connected through a nearby server it dropped to about 4.49 Mbps. A server further away was even slower, at 2.49 Mbps.



As we tested more servers, we found that on average, speeds dropped by about 50%. This isn't great, but it isn't terrible either. For most connections we found that streaming wasn't affected – it didn't buffer, and content was of high quality.
Unlocator Server Locations
Unlocator doesn't state how many servers it has, but we were able to work out that there are about 41 spread across 36 countries. Most of these are in Europe, a few in the US and Canada, and the rest are in Asia, the Middle East, Oceania and Africa. There may be more or less Unlocator servers – we cannot be sure.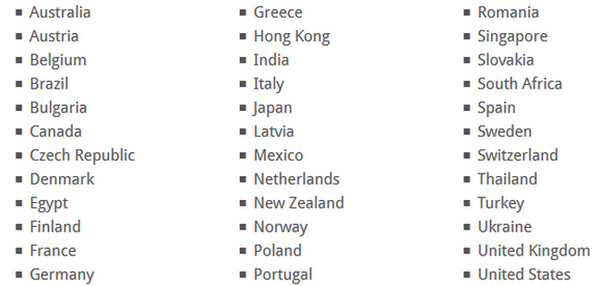 Compared to most top VPNs these are very few; most have thousands of servers. However, this would be like comparing apples to oranges, as Unlocator DNS doesn't do what VPNs do.
The smaller number of servers explains the slower speeds, but again, during our tests we were able to connect and stream content without problems.
Unlocator Logging Policy, IP & DNS Leaks
The whole point of buying software like Unlocator is so that you can be incognito when you stream content, so logging is one of the things you should look into before you buy this service.
It's hard to tell, based on past performance, how good Unlocator is when it comes to user logs. It isn't a typical VPN, so it wasn't designed to hide your data.
The company keeps user logs, but they purge them every 24 hours. Your real IP and email address are collected when you sign up, and each time you log onto their website. They say this helps with troubleshooting and processing payments. They collect this information per Danish law and destroy it every five years.

As for IP and DNS leaks, you are safe. We tested it using several programs and for all, we found that there were no leaks.
Unlocator Location
Unlocator is owned by Linkwork APS in Denmark, which is a signatory of the 14 Eyes Alliance. That said, the country has laws that protect the data rights of its citizens.
The Danish Data Protection Act and the EU General Data Protection Regulation are there to protect from government overreach. They forbid companies from collecting personal information from users and all data collected (IP and email address, for example) must be destroyed after a short while.
Unsupported ISPs
Some ISPs do not support Unlocator. They have software in place that detects and intercepts DNS requests and then directs them through the ISPs servers.
Before you buy, if you are in any of the following countries you should check whether your ISP supports Unlocator traffic: Canada, Honduras, India, Indonesia, Lebanon, Italy, Nepal, Mexico, Singapore, New Zealand, Thailand, South Africa, Spain, UK, UAE and Qatar.
Most of these countries have multiple ISPs, so if you find that the one you use doesn't support Unlocator you can switch to another one.
What Channels Can You Watch on Unlocator?
Unlocator's premise is that it can unlock TV channels, and they have done very well on that front. You have access to hundreds of channels from all around the world.


30-Day Money Back Guarantee
Unlocator can unlock a long list of channels. You will notice that Netflix is not on it. This isn't to say that it doesn't work. On trying, we found that we were able to connect.
However, keep in mind that Netflix invests a huge amount of effort to lock out services like Unlocator, so it may be working today and not working tomorrow.
What Platforms/Devices Work with Unlocator?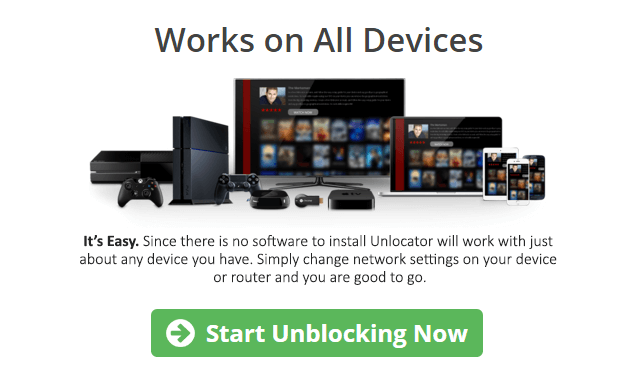 Unlocator works with all common platforms: Windows, iOS, Android, OSX and Amazon Fire. As for devices, it works with more than we can list here. Think most computers, smartphones and tablets, as well as most media players (Fire TV and Fire Stick, Apple TV etc.), most gaming consoles, smart TVs and routers.
Unlocator Setup/User Interface
Unlocator isn't the easiest app to install, and it can take a while to get it to work. You need an API key to be able to select some settings. However, once you get past installation using Unlocator is easy. It is quite intuitive, with a user-friendly layout and colors.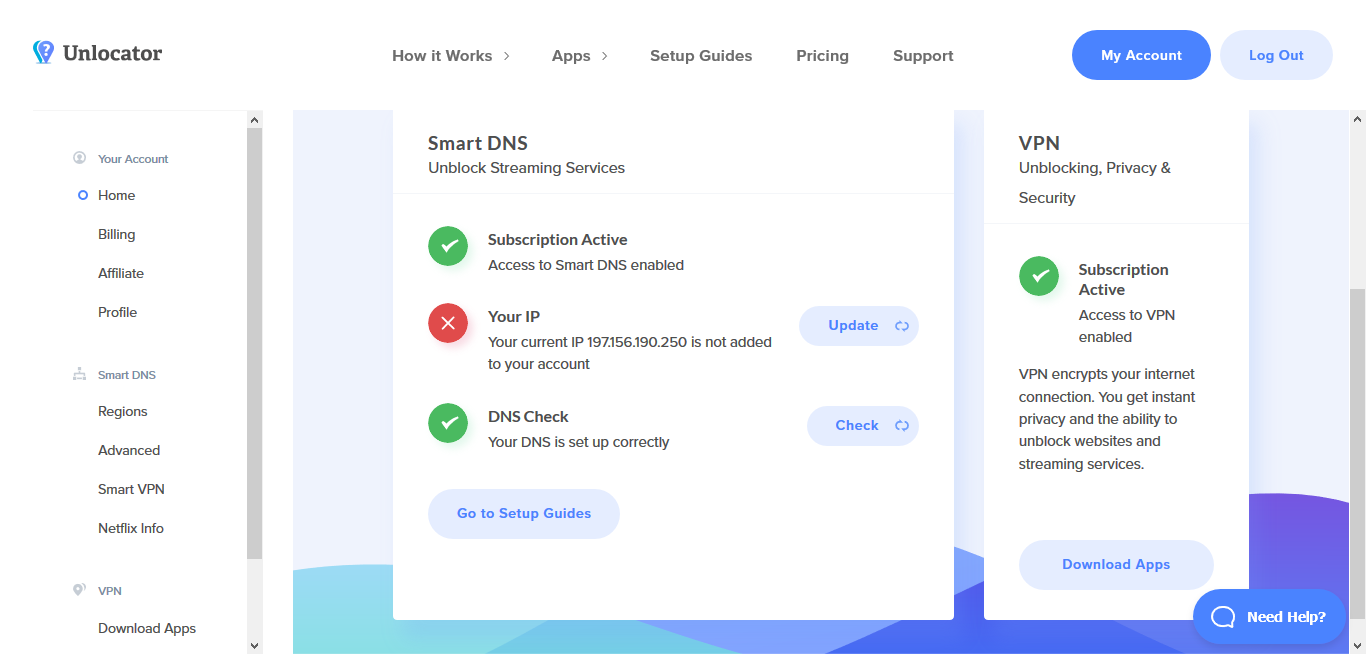 There are detailed guides on the website for experienced users and first-timers.
Unlocator Customer Support
If you run into trouble while installing or using Unlocator there are two help options available. On the website there is detailed documentation that covers setup and frequently asked questions, and you can find most of the answers that you need there.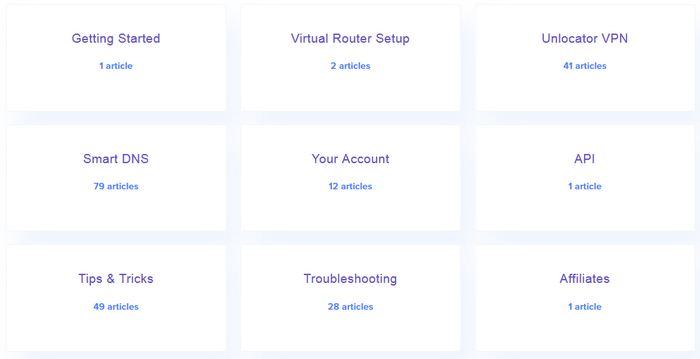 In case you'd like to talk to a support person you can use the Live Chat feature, also available on the website. On the other end there are real humans, and we found them knowledgeable, polite and patient.
Is Unlocator a VPN?
Yes; Unlocator used to be a smart DNS, but has recently expanded its offering to include a VPN. On the website, Unlocator states that the VPN can help users avoid tracking, unblock websites and encrypt connections.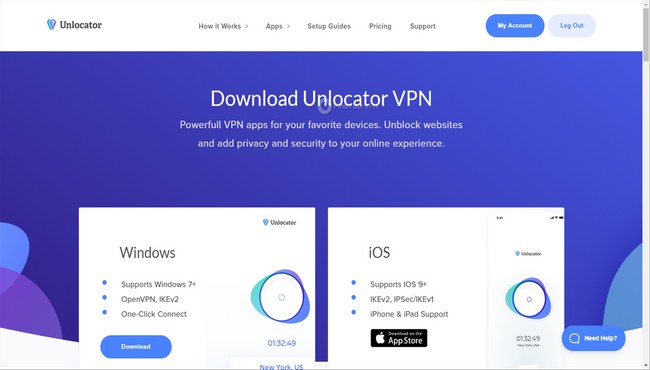 However, if you are looking for a robust security tool Unlocator is not the answer. It has a very small network of servers compared to others in this niche, which means that speeds can be very slow if you are doing anything other than streaming content.
The other things that make Unlocator less than ideal as a VPN are its location and the fact that it keeps logs.
If you are truly concerned with privacy while ensuring that you can surf the net at good speeds, there are many other tools better than Unlocator.
However, if your main concern is to stream content you will not be disappointed.
Can You Watch Movies on a Tablet with Unlocator?

Tablets are fast becoming the device of choice for watching movies, TV and music videos when on the move, and also for accessing websites.
Whether you have an Android tablet or an iPad you can install Unlocator, and use your tablet to access whatever content you want, even in georestricted countries. This is exactly what Unlocator is designed for, as tablets are intended to be used on the move, after all.
You can also install it on your smartphone and use it as a streaming device. We tried Unlocator on a variety of tablets and mobile phones with different operating systems and it worked on all.
How Much Does Unlocator Cost?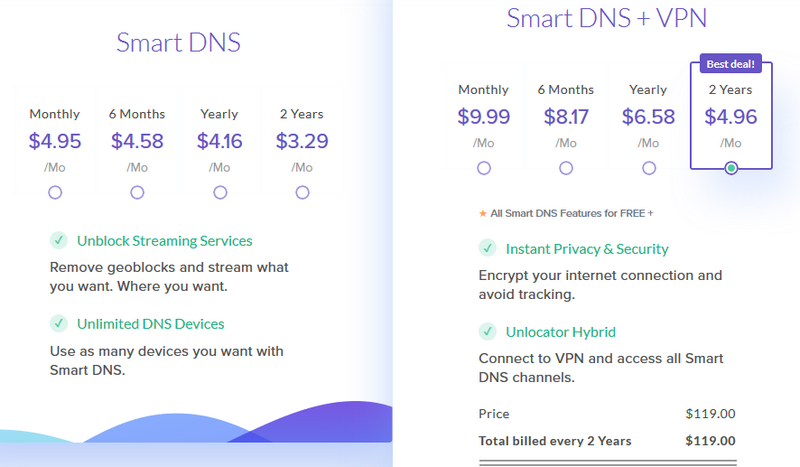 Unlocator comes at a reasonable price, and there are 2 packages that you can choose from: Smart DNS and Smart DNS + VPN.
Here's the pricing for the Smart DNS plan:
Monthly at $4.95/month
Every 6 months at $4.58/month
Yearly at $4.16/month
Every 2 years at $3.29/month
Here's what you pay for Smart DNS + VPN:
Monthly at $9.99/month
Every 6 months at $8.17/month
Yearly at $6.58/month
Every 2 years at $4.96/month
For both you can connect up to 5 devices.
At these prices, we believe Unlocator is one of the best Smart DNS services on offer.  It delivers multiple channels in most countries, is affordable and easy to use.
All you need to do is visit the Unlocator website and follow the instructions applicable to your operating system. If you are using a router you may need to make a few adjustments, but the service is included in the price.
We found the overall package hard to fault, and believe that it is an essential purchase for anyone who experiences content restrictions and geoblocking in certain locations.